We will be exposing a secret location in Miyazaki City that locals don't want you to know up until today.
As a residential district that is removed from the city centre, Otsuka district is one of the most meticulously planned regions in the city which attracted many eatery owners to open their shops here. As a result, some of the best eateries of the city are all clustered in this area and it has remained hidden to tourists up until now.
From piping hot gyoza to chewy goodness like dango and manju to classic favourites such as ramen and Jidori, we recommend going with an empty stomach.
1. Tsugeza (???)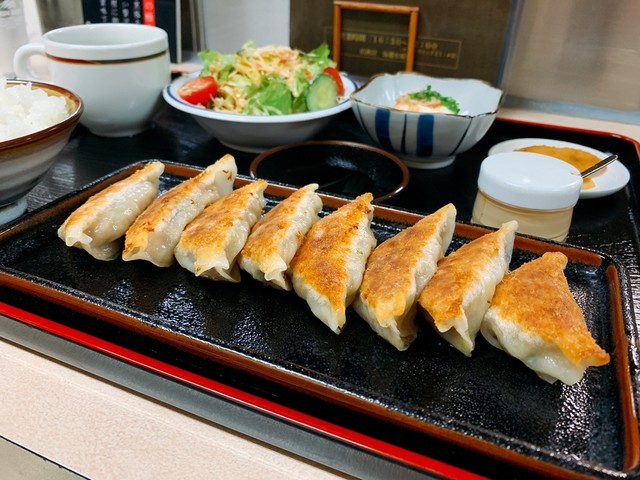 Start off your tour of the Otsuka district by alighting at Shimo Otsuka (???) bus stop. After alighting from the bus, you should be able to spot a gyoza (dumpling) specialty shop called ??? right away.
No visit to a dumpling shop is complete without ordering their dumplings. You know the chef knows his or her stuff if the bottom is crisp while the rest of the dumpling retains its chewy texture. To save your precious stomach space for other food that are to follow, we recommend ordering just the alacarte fried dumplings to share.
Tsugeza is also one of the few eateries in the city that is serving Tebasaki Gyoza i.e. chicken wing stuffed with dumpling filling. Just imagining the meat juices that comes out from the minced meat filling when you bite into a freshly fried chicken wing is already making us salivate.
2. Manju Honpo Nagaya (???? ???)
The shopfront of Nakaya may look a little intimidating and dated but you will be doing yourself a great disservice if you were to skip this manju shop as freshly made manju is absolutely heavenly. They come in 4 standard flavours namely red bean paste, white bean paste, matcha green tea paste and black sesame paste. During certain months, they also offer sweet potato and purple sweet potato manju.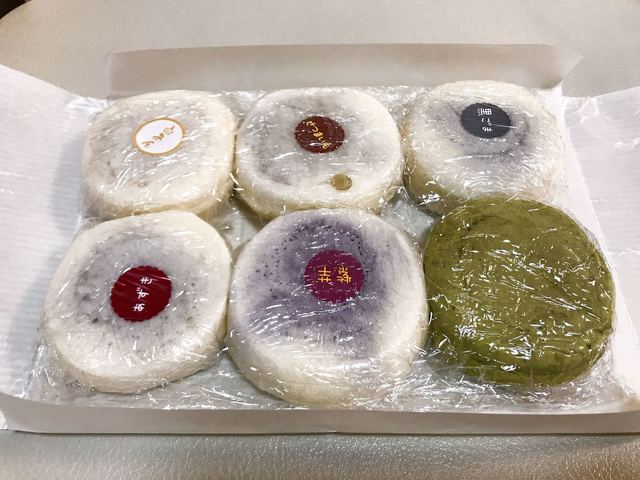 Each of these little pieces of heaven only cost you 100 to 120 yen.
3. Hasegawa Dango (???????)
A little further down from Nakaya is Hasegawa Dango and it is one of the few dango shops in the prefecture. Even if you can't read Japanese, you can't miss the two dango sticks that decorate the shop's sign board.
If you are looking for a non-red bean paste dango after your manju fix, we recommend trying mitarashi dango where grilled dango are dipped in soya sauce.
Opening Hours: 8.30am to 7pm
4. Ranbou (???? ??)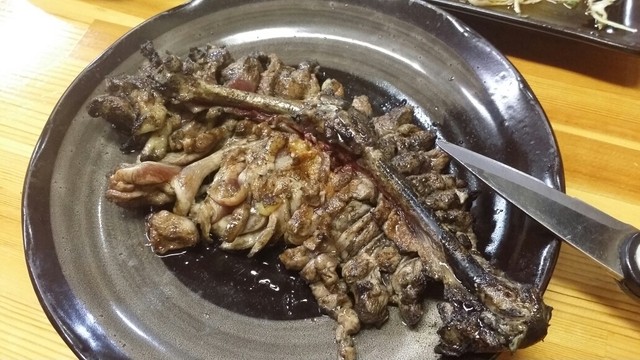 It may take you a few minutes to comprehend just what this bizarre thing is but it is chicken thigh that is sliced up from the bone before it is grilled over charcoal.
You can either devour this messy goodness by biting chunks of meat off the bone or cut it up using the pair of scissors that has been provided to you but no matter how you eat it, you can be sure that it is going to be quite an experience eating this.
The only downside is that Ranbou only opens at 5pm so you will have to double back later in the evening if you want to try this place.
5. Otsuka Shrine (????)
Otsuka Shrine may not be the largest shrine in the city but it definitely has a lot of character with its red and white alter design.
6. Kesaburo Shoten (?????????????)
Ramen fans should definitely not miss Kesaburo Shoten as they offer several interesting renditions of ramen that are not found anywhere else.
The bestseller dish here is the Jidori Shio Lemon Ramen or salt-based chicken broth ramen topped with chargrilled chicken and lemon slices (780yen for regular and 930 for large bowl). In the coming summer months, this is definitely the perfect dish to beat the heat.
They also offer a tom yum-inspired spicy chicken ramen called Toriyamu Men (780yen) as well as the regular tonkotsu pork broth ramen (580yen).
7. Shoe Plaza (??????)
Once you find that you have hit your limit and you can eat no more, head over to Shoe Plaza for some shopping. You will be able to find a wide range of sneakers and sports shoes here.
8?Masumiya (????)
Masumiya carries a pretty extensive collection of affordable clothes. This is the place to visit if you are looking for more unique clothing that are not Uniqlo or GU.
9?Shidax (???? ????? ???????)
There is also a karaoke store, Shidax, in the area for those of you who are looking for some entertainment. Shidax offers a good selection of food and drinks for you to snack along while you wait for your turn to the mic.
10?Cosmos (???????????????????)
Cosmos is the place to go if you are looking to buy cosmetics, skin care products and Japanese snacks. The snacks here are typically cheaper than supermarkets, although the selection tend to be smaller.
11. GINDACO (????? ???????)
If you are feeling peckish after all the shopping, you can grab takoyaki balls at GINDACO.
12.Potato House (??????????)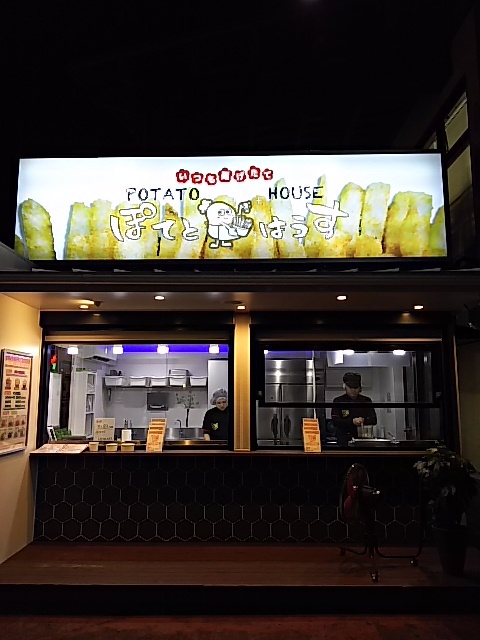 We also recommend getting mochi fries from Potato House which is found opposite GINDACO. These fries fill you up quickly but they are really addictive so it would be smart to buy a pack to share.
You can choose from 7 regular flavours such as chilli pepper, yuzu, roast onion, consomme powder, seaweed and salt, regular salt and salad salt.
13. ?????? ?????
Head over to Daiso, a 100yen store for more shopping.
14. 100???????? ????????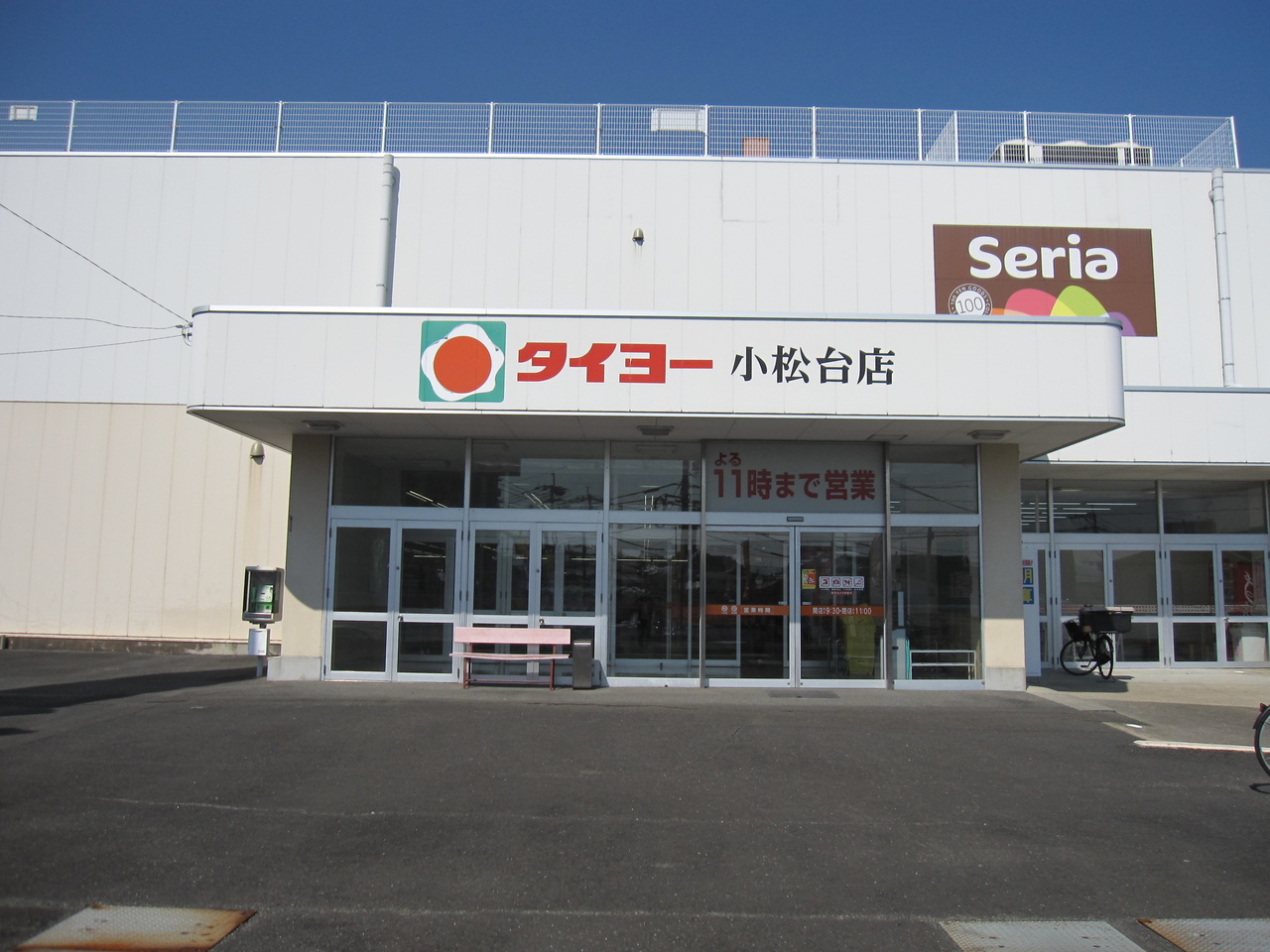 If you couldn't find what you like at Daiso, fret not as another 100yen store called Seria can be found within the Taiyo supermarket. 
Seria generally stocks more stylish-looking products than Daiso.
15. Shimamura ???????????
If you are still game for more walking after you conclude your stop around this cluster of shops where Daiso, Seria etc are, Shimamura is a 9-minute walk further up and you will be able to find a good collection of clothes and shoes here.
So there you have it, 15 whopping places for you to eat, shop, sing and repeat in the Otsuka district. Miyazaki City is definitely worth a few more days' stay if you wish to explore the place like a local as there are heaps of hidden gems like the Otsuka district to discover that you will never find on guidebooks or pamphlets about the city. 
Check out our guide to Sadowara Town for more ideas of places to visit in Miyazaki City!