This bacon Manchego cheese burger made with freshly ground beef, Manchego, and Romesco sauce is everything you always wanted fusion food to be. In other words, brilliant, surprising, inspired, and so harmonious it's as if the ingredients were fated in the stars to be together in this combination.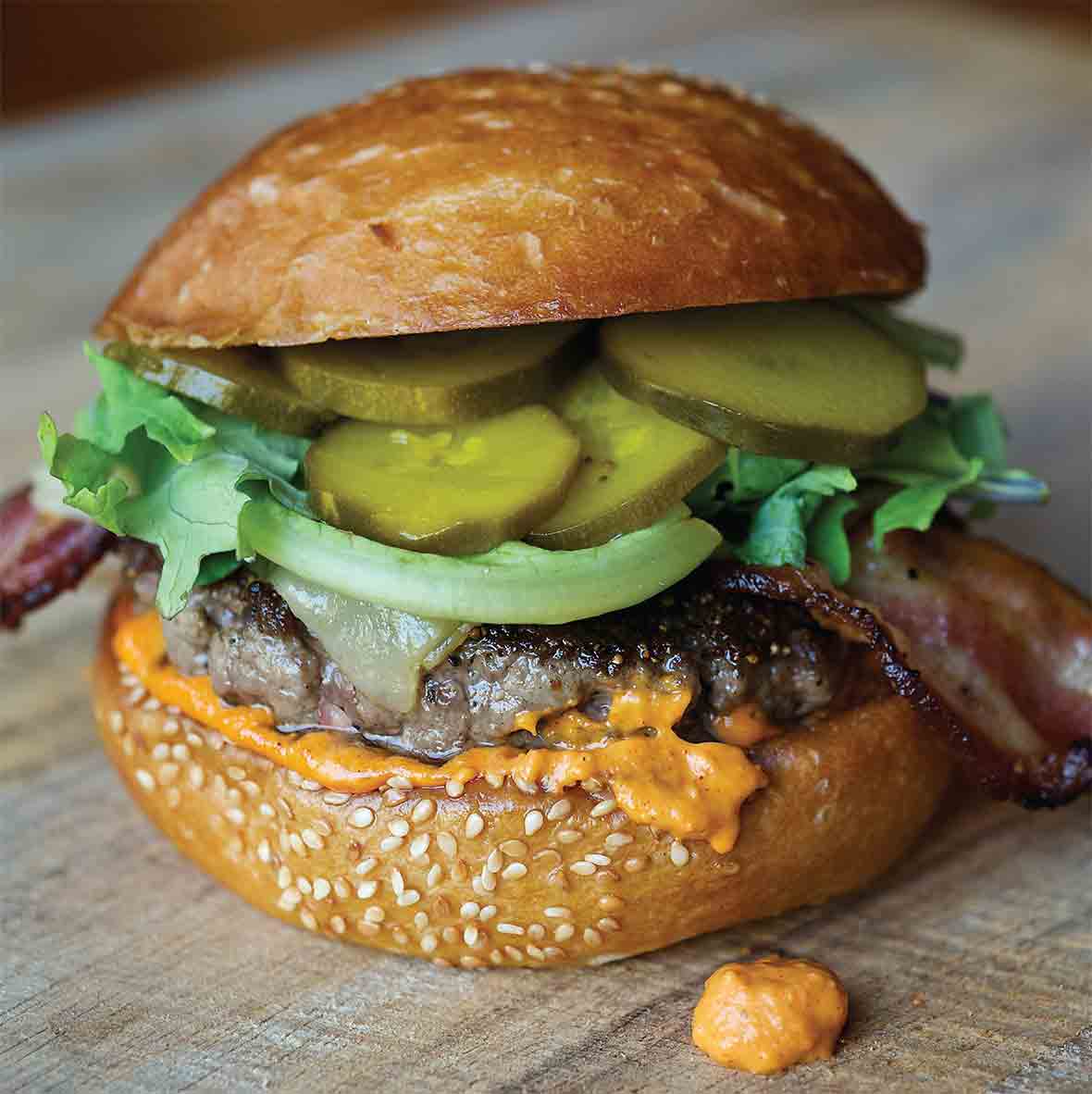 LC Best. Burger. Ever. Note
Chances are you've not had a burger like this before. Not just because of the Spanish-inspired accoutrements, which result in it being, essentially, a bacon Manchego cheese burger, but because of the burger itself. See, the authors rely on a cut of meat called the chuck flap, which is a large section of rib meat with a lot of extremely beefy flavor. It's essentially a particular kind of chuck. Four parts ground chuck to one part ground rib eye works just dandy in its place in the recipe below. (One of our dear and discerning recipe testers did the math for us, and it equates to 2.4 ounces ground rib eye and 9.6 ounces ground chuck. Besos, Robert!) Best. Burger. Ever. Olé!
Bacon Manchego Cheese Burger
Quick Glance
30 M
30 M

Makes 2 burgers
Ingredients
USMetric
12 ounces beef, preferably chuck flap* or another cut that's 15% to 18% fat

4 slices bacon

Salt and freshly ground black pepper, to taste

Two (1-ounce) slices young (aged just 3 to 6 months) Manchego cheese

2 tablespoons unsalted butter (1 oz), at room temperature

2 hamburger buns, preferably sesame seeded, split
2 tablespoons Romesco Sauce

1 cup arugula or mesclun (optional)

12 to 16 slices Pickled Zucchini (optional)
Directions
1. If the butcher didn't grind the beef for you, work the cold meat in your food processor until finely ground and then immediately place it in a stand mixer fitted with the paddle and process on medium speed for 1 minute.

2. Shape the meat into 2 equal-size patties, each one about 6 ounces and, ideally, slightly broader than the buns. Salt and pepper both sides of the patties.

3. In a medium cast iron skillet, cook the bacon over medium heat until slightly crisp. Remove the bacon. Pour off all but 1 to 2 tablespoons bacon fat from the pan and crank the heat to medium-high.

4. Cook the patties until they take on a nice char, 1 to 2 minutes, depending on the thickness.

5. Flip the patties and place first the bacon and then the cheese on the top of each burger. Cover the skillet and cook until the desired doneness, about 1 minute for medium-rare. If you prefer a less rare burger, simply cook another minute or two on each side.

6. Meanwhile, butter the buns and place them, cut side down, in another skillet over medium-high heat until nicely toasted, 2 to 3 minutes.

7. Slather 1 tablespoon Romesco on the bottom half of each bun. Place the burger patties on top and garnish with greens and 6 to 8 slices Pickled Zucchini, if using. Place the top half of the bun on each stack of bacon cheeseburger spectacularness and demolish. Originally published April 1, 2014
*What You Need To Know About Ground Beef For Burgers
Chances are you've not had a burger like this before. Not just because of the Spanish-inspired accoutrements, which result in it being, essentially, a bacon Manchego cheese burger, but because of the burger itself. See, the authors rely on a cut of meat called the chuck flap, which is a large section of rib meat with a lot of extremely beefy flavor. It's essentially a particular kind of chuck. Four parts ground chuck to one part ground rib eye works just dandy in its place in the recipe below. (One of our dear and discerning recipe testers did the math for us, and it equates to 2.4 ounces ground rib eye and 9.6 ounces ground chuck. Besos, Robert!) Best. Burger. Ever. Olé!
Read more at http://bit.ly/2WN18fT
source https://leitesculinaria.com/94944/recipes-bacon-manchego-cheese-burger.html